SHERPA Institute is a non-profit organization dedicated to continual improvement, research, education, and global collaboration for A WORLD WE ALL WANT. We are proud to have collaborators of all ages, from around the globe, represented throughout our team. Read More…
Our name is derived from two sources: international political summits & mountain adventures. The Sherpa people of Nepal serve as guides in the Himalayas, clearing the way for groups of adventurers in the journey upward to a major summit. Read More…
Directory
Researchers
Writers
Reviewers
Coaches
Consultants
Collaborators
Instructors
Interns
Administrators

A WORLD WE ALL WANT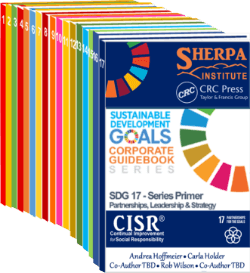 The Sustainable Development Goals, adopted by all nations of the UN in 2015 as part of the 2030 Agenda for Sustainable Development, consist of 17 Goals and 169 Targets underneath the Goals. The SDGs were designed with input of 10+ million people globally. The ambitious 2030 Agenda cannot be achieved solely by the efforts of governments, nonprofits and NGOs. We need the private sector to get involved NOW!

That is why we are producing 17 UN SDG Corporate Guidebooks. Our expansive global team of researchers and writers represents a range from the best minds in industry, leaders in academia, and even fresh points of view from our student interns. Each SDG has its own dedicated team, and positions are available on many of them.
Featured SDG Team Insights
Editor's & Leaders' Insights
Why Join Our UN SDG Project?